Learning to scale
Y Combinator flew us over to Silicon Valley for a conversation about how we shape the future of lighting.
It was a great opportunity to exchange ideas and feedback with the brightest minds in the startup community and we're excited about what is to come. - Banly Cheung, Jille Kuipers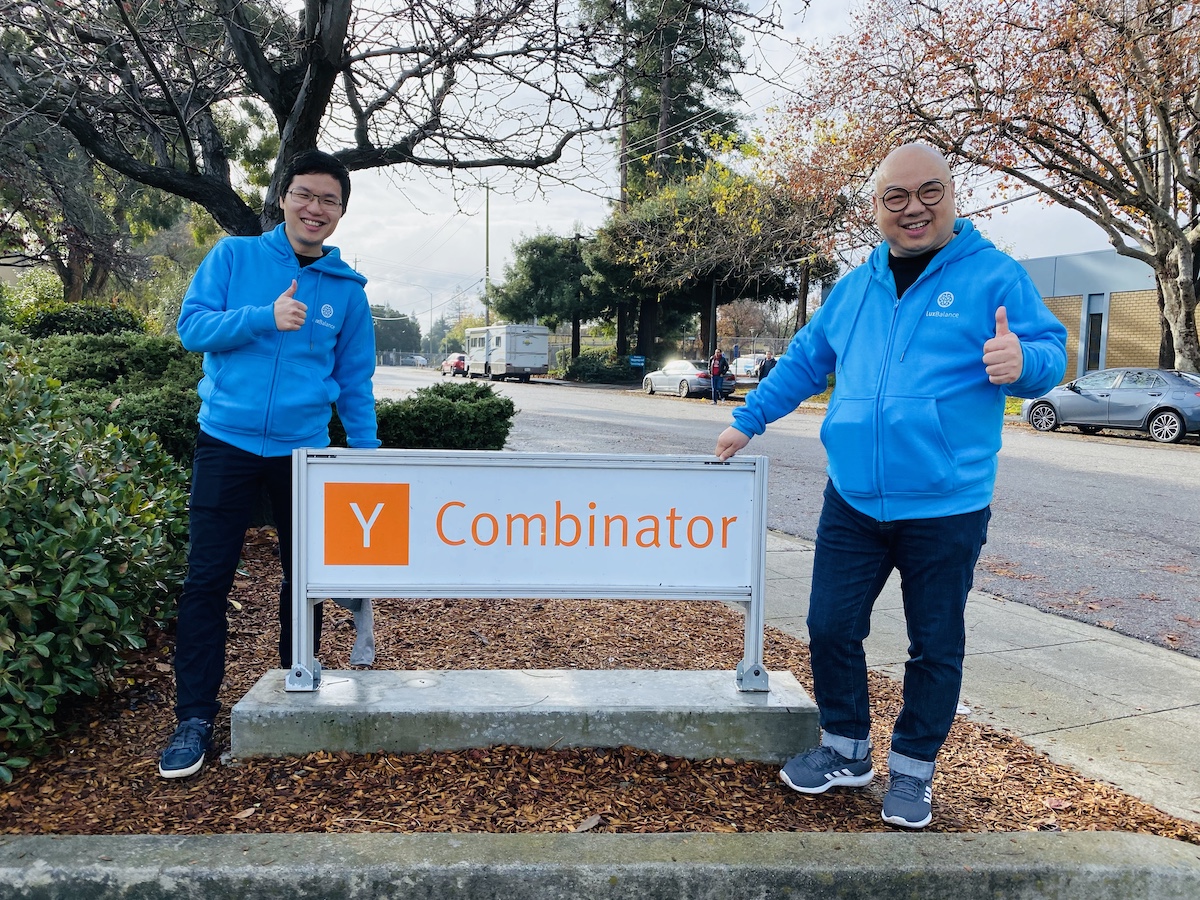 YC announced grants to the most promising companies and LuxBalance is happy to be part of that.
updated on 27th of December 2019
---
More than just Illumination
Whether it's plants, animals or humans, all living species need light. However, each depends on different spectrums of light for survival, growth, development and well-being. HKTDC speaks with LuxBalance Lighting that has the spotlight on biocentric lighting. By Lydia Li.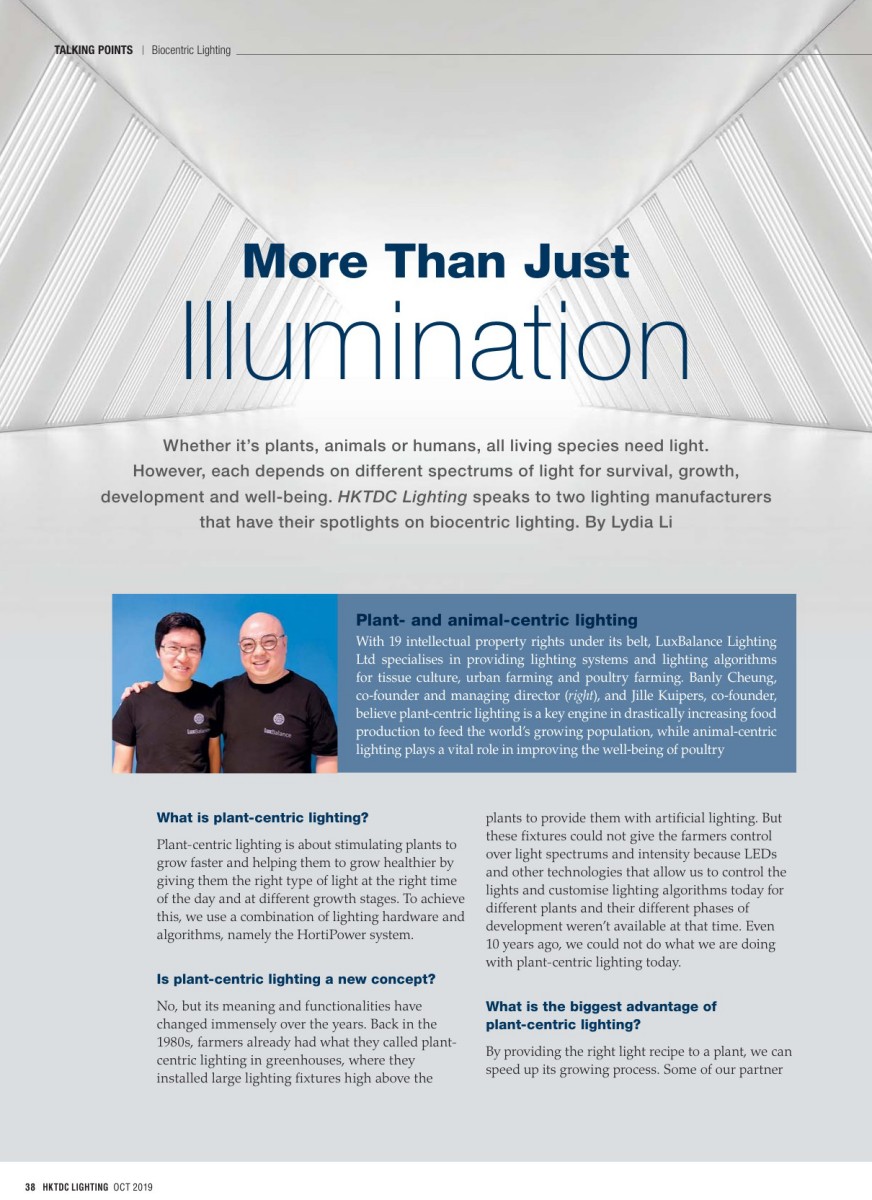 updated on 25th of October 2019
---
LuxBalance Lighting supports Business of Design Week
The BODW is an annual event on design, innovation and brands. The theme of this year is to 'Design the Future, Create Tomorrow'.
updated on 25th of October 2019
---
Lights promote plant growth (startupbeat Hong Kong)
Startupbeat Hong Kong interviewed LuxBalance Lighting. Read the interview in Cantonese here.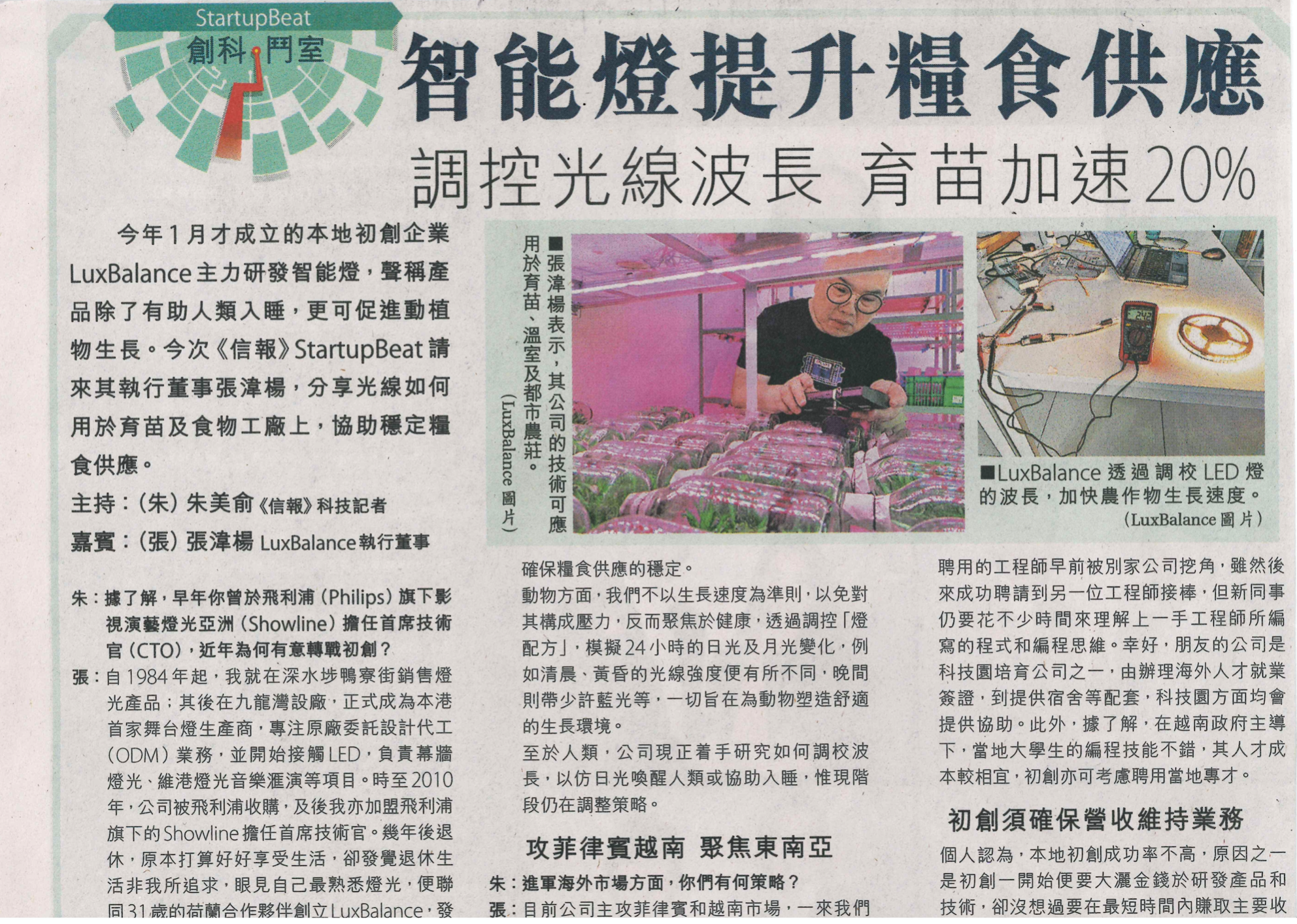 updated on 3th of October 2019
---
LuxBalance Lighting is now an official producer of Remote Device Management (RDM) enabled lighting
The Entertainment Services and Technology Association (ESTA) has allocated a manufacturing ID to LuxBalance Lighting. Customers can now benefit from the latest innovations in human-centric lighting, plant-centric lighting and aninal-centric lighting, while making sure lighting is compatible with industry standards and makeing lighting work for you.
updated on 8th of February 2019
---
Introducing LuxBalance™
Introducing LuxBalanceTM – A new lighting technology collaboration between Acclaim Lighting and LuxBalance Lighting
Acclaim Lighting and LuxBalance Lighting are partnering to transform how lighting impacts people's lives by combining some of the worlds best lighting expertise with advanced research and innovative concepts in digital lighting technology.
"We're excited to work with Acclaim - a global leader in innovative and advanced lighting technology" said Banly Cheung, LuxBalance Lighting, Lighting visionary and MD. "With our smart combination of full spectrum lighting, control and personalized concepts we can deliver great experiences for people and better business results with light."
"With this partnership, we're bringing together our lighting experience and shared passion for lighting innovation' said Toby Velazquez, Acclaim Lighting, CEO. "We have always worked closely with the lighting design community to provide cutting edge solutions and we look forward to exploring more on how to apply this new and relevant lighting technology in the near future."
Lighting experts, Creatives and end-users alike will be able to take full advantage of these new partnered technologies in digital lighting offering light quality and performance beyond CCT and CRI. The initial focus areas of this partnership include:
Full spectrum natural white: Acclaim and LuxBalance Lighting empower architects and designers to highlight unique appearance of material and finishes in the décor with the widest range of natural white. Using a unique combination of LEDs and smart color calibration, it delivers the most natural and widest natural white following the BBL.
Human centric lighting for hospitality: helping people sleep well and wake-up feeling rested with our digital lighting technology.
Plant centric lighting for Tissue culture: helping tropical fruits using HortiPower, a powerful and flexible spectrum lighting for tissue culture labs and city farms. Flexible lighting enables growers and farmers to grow faster and healthier and tailoring lighting to the unique needs of the plants and growth stage.
Animal centric lighting for Broiler and Layer: enhancing animal wellbeing and farming outcomes using SunPerform, a special lighting range for chicken farms. Proprietary lighting algorithms supports bird development and enables a smarter farming approach.
About--
Acclaim Lighting – a leader in innovative and advanced lighting technology was founded 2003 in Los Angeles, California. www.acclaimlighting.com
LuxBalance Lighting – a start-up in end-user digital lighting technology was founded in 2019 in Hong Kong. www.luxbalancelighting.com
Download the press release here
updated on 11th of January 2019
---
LuxBalance Lighting joins HSH Kaleidoscope Lab Pitch Night Finalists
More info here
updated on 11th of January 2019
---
LuxBalance Lighting is officially registered
Happy new year to everyone! Stay tuned for more info. In the meantime, feel free to explore this page or contact us if any questions or comments.
updated on 10th of January 2019
---
Full-range portfolio for professional applications
Our Flexible Linear Lighting solutions are designed for professional projects. This high-end range is designed to deliver enable your creativity, provide superb lighting effect and design flexibility.
With advanced manufacturing methods and a team of lighting professionals we strive towards complete satisfaction in all our projects.
Contact us for product data-sheets and information.
Advanced digital lighting technology
The patented flexible linear lighting feature special spectrum LEDs with precision dimming and lighting algorithms. Blending technological innovation, optical excellence and digital scalability we empower you to shape the creation of light. Our special LightScript chip provides people-centric lighting content that is based on the understanding of people, spaces and light.
Currently we hold more than 20 Intellectual property rights in China, United States and Europe.
Spectrum LEDs for each application
The one-of-a-kind LEDs combination can also deliver superb natural white and smoothly blend human centric lighting with ambient lighting for a comfortable feeling. Sunrise orange LEDs create warm shades of light, twilight hues and a true-to-nature glow. Human centric spectrum can also enhance architecture and materials in the best possible way and adds special effects in bars and clubs. Lighting can live up to its potential in benefits for human biology, vision and emotion.
Reliability and speed
Co-creation and innovation starts with a conversation. We can co-create for special projects where we research the end-user application, experience-flow and business needs. With a solid understanding of the current state we propose new propositions that enhance experience, create business value and long lasting differentiation enabled with digital light.
We co-create with end-users, designers, architects, brands and owners.